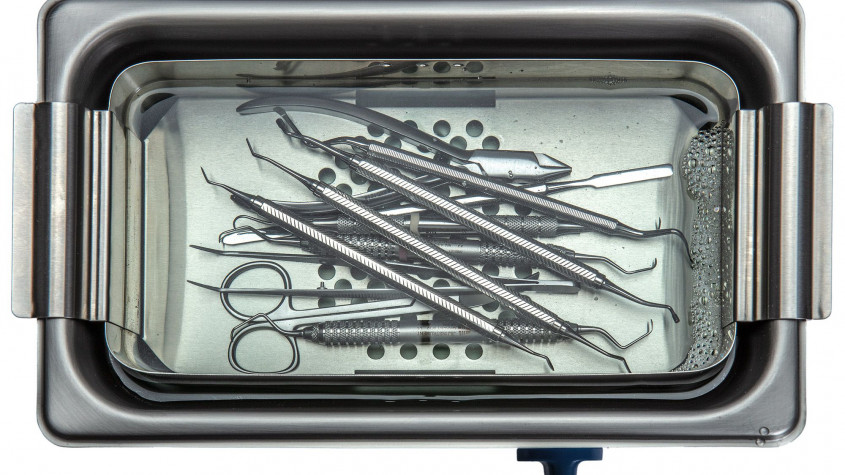 2020.03.6
•
Ultrasonic Cleaning
What is Ultrasonic Cleaning?
What is Ultrasonic Cleaning:
If you've ever heard the words "Ultrasonic Cleaning," they're usually followed by "effective" and "cutting edge." Many industries from dentistry to jewelry use it, but what, exactly, is ultrasonic cleaning? We're breaking down the process and how it can help solve your cleaning needs.
Ultrasonic cleaning is exactly what it sounds like: a cleaning process that uses high frequency, high-intensity sound waves—ranging from almost 20,000 to 100,000 cycles per second. These sound waves create rapid vibrations in the cleaning solutions that remove foreign contaminants from surfaces. This process is known as cavitation.
The transducer of the ultrasonic cleaner begins to vibrate once the machine is turned on. This creates high frequency compression sound waves, which then turn into cavitation bubbles. In the most simplified definition of the process, the ultrasonic energy creates bubbles, and the formation and collapse of these bubbles create agitation in the cleaning solution that removes foreign contaminants—bacteria, oil, and dirt, to name a few—from surfaces.
Ultrasonic cleaning is related to the frequency of the machine, which in turn, improves cleaning ability. The bottom line: it's a powerful way to remove elements like oils, grease, and slurries, regardless of the shape of the surface, and it's also gentle enough to clean without damage to delicate parts. While it may seem complex, it is simple to use, saving your business time and money.
Why Ultrasonic Cleaners are Better for Your Business:
Ultrasonic Cleaners Reach Anywhere: Unlike traditional cleaning methods, the microscopic bubbles in the solution can reach anywhere regardless of the complexity of the shape or pattern of the item being cleaned. This is important when you're thinking about surfaces with deep crevices or parts that are positioned next to each other. Every surface in the solution is immersed and ready to be cleaned, and your employees won't need to take apart pieces in order to clean them, eliminating much of the human error.
Save Your Business Time + Money: Unlike ultrasonic cleaning, using a sprayer to clean require specialized chemicals, many with aggressive additives. Additionally, once the job is done, the headache of disposal or the need for a purification system costs both time and money. While Ultrasonic Cleaners use detergent, the clean happens from the cavitation, not from the aggressive chemicals. As a result, you won't have additional disposal costs/problems. With ultrasonic cleaning, you get a better clean for less work.
Click here to read more about what it means to fight grime for nine decades
Not all Ultrasonic Cleaning Systems are equal: The L&R Difference
At the heart of all ultrasonic cleaning systems is clean. After all, it's in the name, but that doesn't always mean the same level of clean. At L&R, we are the acknowledged worldwide leader with 90 years of experience in ultrasonic cleaning systems and solutions because we put every machine through a series of rigorous tests to ensure it meets or exceeds our rigid standards, which are the most stringent in the industry.
It doesn't stop there. Our team is always looking to innovate and find new ways to increase the effectiveness of our machines, solutions, and accessories. The L&R Quality Assurance Program and Research and Development effort are ways in which L&R works harder to remain your choice for reliable, quality ultrasonic cleaning systems. That's what sets us apart. At L&R, clean matters!