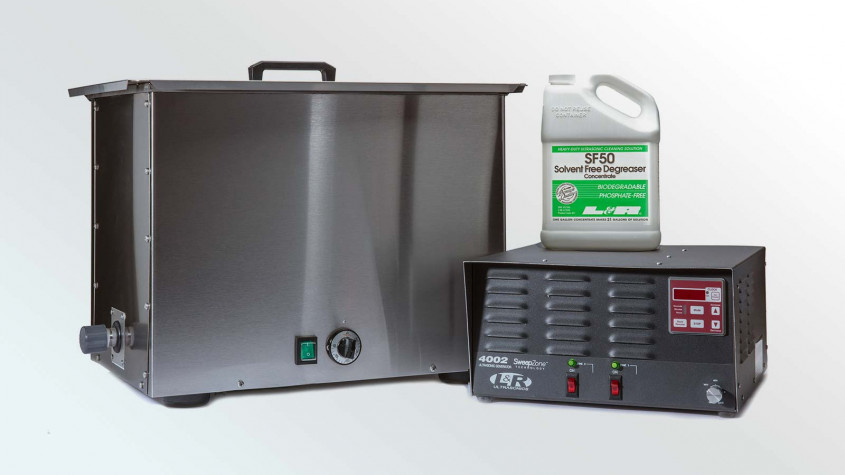 2021.04.15
•
Ultrasonic Cleaning
The Top 7 Ultrasonic Cleaning Machine Companies in the U.S.
Ultrasonic cleaning technology is the preferred precision cleaning method for myriad industries because of its ability to clean inside cracks and crevasses as small as a micron where manual cleaning methods and techniques can't reach. But with so many ultrasonic machine companies to choose from, selecting the right one for your specific needs and preferences can be overwhelming. We've compiled a list of the best ultrasonic machine manufacturers in the USA based on the quality of their systems, their reputation, and their customer service.
1. L&R Ultrasonics®
Location: Kearny, NJ
Phone number: (201) 991–5330
Website: lrultrasonics.com
A national leader in specialized ultrasonic cleaning technology, L&R Ultrasonics has built a reputation for providing a wide range of industries with reliable, long-lasting products that offer consistent and precise results. This fourth-generation family-owned organization has been in business for over 90 years and proudly manufactures in the United States with production of their ultrasonic cleaner machines and cleaning solutions in Kearny, New Jersey. Soon after the company's inception in 1930, its founder Max A. Lazarus Sr. developed a cleaning process for watchmakers that remains the worldwide standard to this day. What began as a small business supplying jewelers and watchmakers with quality cleaning solutions expanded to introduce ultrasonic cleaning to the dental and medical fields as a faster, safer, and more thorough alternative to traditional manual cleaning practices. Now L&R has extended the industries they serve even further by offering ultrasonic cleaning machines specifically designed for the fire and safety, industrial, scientific lab, and firearms industries as well.
Many manufacturers, job shops, and niche markets count on L&R to supply them with ultrasonic cleaning machines and ultrasonic cleaning fluids that help their businesses operate seamlessly and reduce downtime. The ultrasonic manufacturer makes a comprehensive selection of machine sizes catered to a broad spectrum of cleaning requirements, regardless of size or scope. Their team of expert chemists creates ultrasonic cleaning fluids specially formulated to produce the best-quality cleaning results. Further, they produce a complete line of ultrasonic cleaning solutions specifically crafted to clean items composed of different materials and to remove particular substances from the item being cleaned. L&R's professionally designed pairing of ultrasonic cleaning machines and cleaning solutions ensures that you get total, 360-degree cleaning. Not sure which ultrasonic machine and cleaning solution are right for you? Send L&R a sample of the item you need cleaned and their application chemists and engineers will analyze your soil, clean the item in their lab, and draw up a complimentary cleaning evaluation report recommending the best ultrasonic system and cleaning solution for you.
2. Emerson Electric™
Location: Brookfield, CT
Phone Number: (847) 229–0800
Website: emerson.com
Branson has been in the business of ultrasonic precision cleaning for over 70 years. Now a subsidiary of Emerson, they deliver ultrasonic cleaning solutions to meet the needs of the most challenging applications; their systems can clean virtually any part or product. The company produces a large variety of ultrasonic precision cleaning machines, from benchtop baths that clean small, delicate parts and instruments to large industrial and automated systems. Branson provides precision cleaning solutions that serve four important areas: aqueous systems, solvent systems, automated processes, and support equipment. Each of these areas has its own unique set of capabilities and benefits—and together they have the potential to serve a virtually unlimited number of applications. The company does its manufacturing outside of the U.S. and is globally recognized for their innovative problem solving, product development, and proven track record of devising custom solutions for unique customer challenges.
3. Coltene-Whaledent®
Locations: Europe, East Asia, South Asia, United States
Phone Number: (330) 916–8800
Website: nam.coltene.com
Coltene-Whaledent develops, manufactures, and sells consumables and small-size equipment for dental treatment applications. The company supplies the dental industry with a variety of distinct ultrasonic cleaning systems consisting of different sized units as well as a wide array of accessories. These systems grant dental professionals the flexibility to efficiently clean and disinfect instruments, prostheses and other items. All of their ultrasonic cleaning machines are designed for user safety, a key component of which is their built-in drains with extra-long drainage tubes allowing the user to dispose of contaminated solutions without ever touching them. Additionally, their fully functional covers redirect condensation back to the ultrasonic bath limiting the introduction of airborne contaminants into the work environment. The company also offers a line of super concentrated ultrasonic solutions for use with their cleaning units.
4. Crest Ultrasonics®
Location: Ewing Township, NJ
Phone Number: 1-800-99-CREST
Website: crest-ultrasonics.com
This New Jersey–based company has gained a reputation worldwide for their cutting-edge ultrasonics innovation and for delivering high-quality products and services. Crest manufactures specialized ultrasonic machines to the medical, aerospace, industrial, pharmaceutical, optics, automotive, cosmetics, metal fabrications, and firearms industries. They carry a full line of precision cleaning equipment and make custom-built ultrasonic machines. Their ultrasonic cleaners consistently outperform conventional cleaning methods by combining speed, reliability, and thorough cleaning of highly complex parts with caked-on grime, residue, or rust. Further, Crest offers a wide range of standard ultrasonic cleaning solutions as well as custom blending services. The company has manufacturing operations in 15 countries and does all their manufacturing outside of the U.S. Crest strives to provide their customers with custom ultrasonic manufacturing that meets their exacting standards and specific needs as well as ultrasonic cleaning solutions based on patented engineering principles, and global connectivity to their sister companies for any other ultrasonic-based needs.
5. Omegasonics™
Location: Simi Valley, CA
Phone Number: (888) 989–5560
Website: omegasonics.com
Omegasonics manufactures industrial ultrasonic cleaners and cleaning fluids that eliminate dangerous solvents in the workplace and reduce rising labor costs. They offer a comprehensive line of products, from ultrasonic benchtops to fully customizable machines. Their Omegasonics Pro Series is complete with ultrasonic cleaning machines designed for aerospace, automotive, semiconductor manufacturing, food, pharmaceutical, and 3D parts post-processing applications. These industrial washers reduce labor, accelerate the cleaning process, and produce superior results to manual cleaning. If Omegasonics' standard ultrasonic cleaners don't meet your processing needs, they can build a custom cleaning tank that fits your exact specifications. The company also manufactures ultrasonic cleaning systems geared toward disaster restoration companies. An ultrasonic systems assembly line process is the best way to set up your contents division for success. Ultrasound cleans the assortment of items your packout team encounters on fire, water, and mold claims faster, more thoroughly, and more efficiently than traditional hand-cleaning methods.
6. UP Corp (Ultrasonic Power Corp®)
Location: Freeport, Illinois
Phone Number: (866) 260–6629
Website: upcorp.com
Founded in 1972, Ultrasonic Power Corp is committed to providing their customers with precision ultrasonic cleaning and liquid processing by leveraging the latest technology. Their ultrasonic cleaning systems feature heavy-duty, all-stainless-steel construction and serve myriad industries, including aerospace manufacturers, automotive manufacturers, orthopedics, pharmaceuticals, semiconductor manufacturers, motorsports, food and beverage processing, firearms, jewelry, and musical instrument manufacturers. The company makes standard systems with 1- to 204-gallon capacity designed to clean items and parts of a variety of shapes and sizes. They also design and build custom systems for specialized applications and can supply components to transform or upgrade your existing tank. UP Corp's unique technology featuring their trademarked Simultaneous Multi-Frequency precision industrial ultrasonic cleaning equipment delivers versatile performance from the simultaneous presence of many ultrasonic cleaning frequencies within the cleaning chamber. Furthermore, UP Corp's engineers offer technical assistance, training, and other support solutions and can also send out components for preventive maintenance.
7. Sonicor™
Location: West Babylon, NY
Phone Number: (631) 920–6555
Website: sonicor.com
Sonicor Incorporated has been an established manufacturer of advanced ultrasonic cleaning systems, vapor degreasing equipment, and automated parts handling systems since 1966. Their machines are a great choice for items such as jewelry and surgical tools that require careful, intricate cleaning. This company primarily serves the electronics, medical, aerospace, pharmaceutical, and printing industries. They've also successfully expanded into several niche markets—their ultrasonic cleaning systems have assisted with cleaning anilox rolls for the flexographic printing industry as well as venetian blinds. Sonicor offers industrial and large ultrasonic cleaner models in a wide range of sizes to accommodate all their customers' requirements working in a variety of fields. In addition, they sell a series of vapor degreaser models built to remove contaminants from any product. This process prepares the item for any additional procedures. Sonicor is dedicated to engineering quality ultrasonic cleaning systems and providing attentive service to each and every one of their customers.