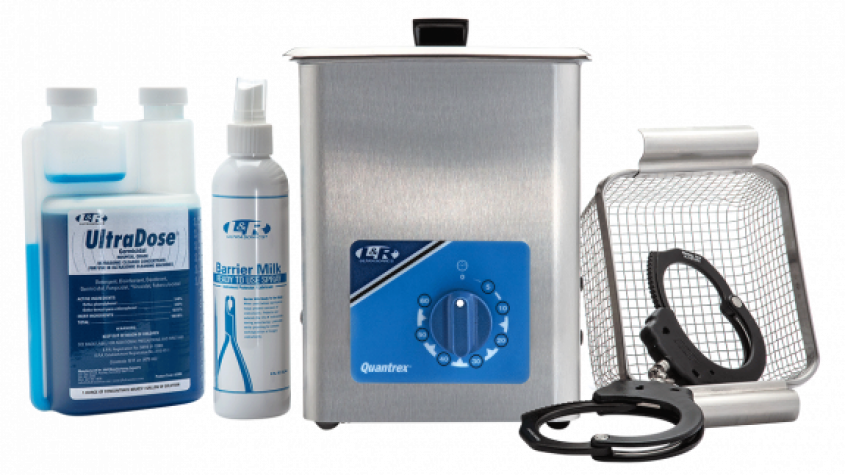 How to Disinfect Handcuffs with an Ultrasonic Cleaner
Handcuffs are amongst the most common pieces of equipment that law enforcement officers use on a daily basis. If you are a police officer or other member of law enforcement, you know how crucial it is to disinfect your handcuffs properly. This is true at any time, but particularly in the era of COVID-19.
Are Your Cuffs Truly Clean?
Each time you use your handcuffs, microbes and other contaminants can settle on them. Oils, dirt, blood, bodily fluids carrying infections can easily be transferred from one individual to another through a cuff, putting both you and the wearer at risk. Contaminants can easily hide in the cracks and crevices of a pair of cuffs.
Not all police departments have a policy to ensure proper cleaning of handcuffs. Many officers clean handcuffs using less than ideal methods. Traditional cleaning methods, such as soaking in bleach, still require scrubbing to remove debris. Cleaning and disinfecting your cuffs with an ultrasonic cleaner removes this unnecessary step.
The standard commercial products that are available are also often less than ideal. That's why ultrasonic cleaners are becoming more and more popular for cleaning handcuffs and restraints used by law enforcement agencies and correctional facilities.
Ultrasonic cleaning by itself cleans, but does not disinfect, but with the right solution it is possible to do both at the same time. L&R Ultrasonics offers the only COVID-19 approved product that both cleans and disinfects simultaneously.
What is an Ultrasonic Cleaner?
An ultrasonic cleaner is a high-tech device that uses sound waves and a cleaning solution in combination to create a cleaning action . Ultrasonic refers to a spectrum of sounds that range from 40,000 to 100,000 cycles per second. Law enforcement has used ultrasonics for cleaning firearms and weapons for many years. However, as science has advanced, it is now also used for disinfecting handcuffs and restraints.
An ultrasonic cleaner consists of a tank, power generator, and transducers. When the power is on, the electrical energy is transformed to mechanical energy as the transducers vibrate.
As the transducer fluctuates in size, it creates high-frequency compression sound waves in the tank. These sound waves lead to the quick formation and collapse of cavitation bubbles.
Benefits of an Ultrasonic Cleaner for Law Enforcement
Ultrasonic cleaning machines are popular in many sectors nowadays. They are used in industries as wide ranging as medical, industrial, and even disaster recovery.
Ultrasonic Cleaners are Time-Saving
Because ultrasonic cleaners use high-frequency and high-intensity sound waves, they provide faster and better cleaning than other methods. The job of a law enforcement professional is undoubtedly very busy and stressful, so systems that save time are always welcome.
Keep Your Equipment Well-Maintained for Longer
Some cleaning methods leave marks and abrasions on the items that they clean. Others cause rust and corrosion in the long run. Ultrasonic cleaners, however, provide a superior cleaning action. They can clean your cuffs' cheek plates, ratchet, and pawl without leaving any marks or abrasions.
Cleaning of Complex Parts
As we mentioned, it can be difficult to reach the internal areas and mechanisms of a handcuff with traditional cleaning methods.
An ultrasonic cleaner provides a cleaning action that removes blood, skin tissue, body oils, and more from all the cracks, crevices, and difficult-to-reach parts. The sound waves of the ultrasonic cleaner ensure that every single part of your handcuffs is thoroughly cleaned.
How to Disinfect Handcuffs Using an Ultrasonic Cleaner
Now that you understand why you should be cleaning your handcuffs with an ultrasonic cleaner, let's go through the steps you'll need to take to do so.
Choose the Right Type of Ultrasonic Cleaner
Ultrasonic cleaners come in different varieties and each has its own benefits and drawbacks. Here are some things to consider as you choose a cleaner:
Size. Do you need a large industrial machine? If you are part of a large department, you might. Otherwise, a lab size or tabletop cleaner is likely to be most appropriate for cleaning handcuffs.
Efficiency. How many pairs of handcuffs do you need to clean each day and how quickly must they be cleaned?
Power. Since cleaning your handcuffs is of utmost importance for infection control purposes, you must ensure you choose a machine that is powerful enough to be up to the task.
We have two systems designed specifically for handcuff cleaning, but any ultrasonic machine can be equipped to handle your specific requirements.
Cleaning Solutions
Once you've chosen the right cleaner, the next step is to decide on the best detergent or cleaning solution to use. Ultrasonic cleaners require the right detergents to work well. If you wish to clean and disinfect your cuffs at the same time, it's vital to choose a germicidal product - one that kills germs as well as removing dirt and grime.
Our UltraDose Germicidal Hospital Grade Ultrasonic Cleaner Concentrate both cleans and disinfects, and has demonstrated effectiveness against viruses similar to COVID-19 (coronavirus) on hard, non-porous surfaces.
This EPA-approved super concentrate solution cleans and disinfects in a 10-minute contact time, eliminating residual microorganisms in a single step. It performs as an ultrasonic cleaner, disinfectant, deodorant, germicidal, fungicidal, virucidal, and tuberculocidal all in one.
Start the Cleaning Cycle
Here's a quick rundown of how to clean your handcuffs using our most popular restraint cleaning system:
Fill the tank of the ultrasonic cleaner 2/3 with water. Open your bottle of UltraDose Germicidal Hospital Grade Ultrasonic Cleaning Solution Concentrate and gently squeeze bottle filling to ½ oz. line. Pour into the tank.
Turn on the ultrasonic cleaner and run for 5 minutes to degas the solution.
Place handcuffs in the accessory basket and put the basket in the tank. For best results leave handcuffs in the open position.
Place the cover on top and turn the unit on. Set timer for a 10 minute cleaning cycle.
Once the cleaning cycle is complete, remove the basket and rinse the cuffs while in the basket under tap water. Shake off any residual water left on the cuffs.
Spray handcuffs with Barrier Milk Ready to Use Spray to lubricate and prevent rust. Special attention should be given to joints and locking mechanisms.
Wipe with dry cloth.
It's that simple!
All ultrasonic cleaners should come with a detailed set of instructions. Read them thoroughly and follow them at all times to get the best results and ensure your machine serves you well for many years to come.
Clean Your Handcuffs Often
Cleaning handcuffs and other law enforcement equipment with an ultrasonic cleaner is easy once you get the hang of it. It's also the best way to ensure your equipment is cleaned and disinfected thoroughly and safely without harm.
Consistent ultrasonic cleaning will keep your handcuffs clean and free of any contaminants. Ensure that your handcuffs are both cleaned and disinfected for both personal protection and liability.