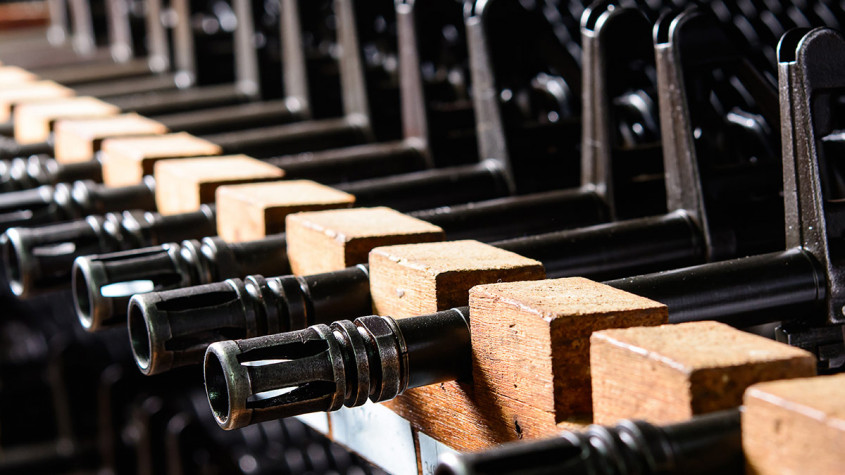 How to Choose the Best Ultrasonic Cleaner for Guns and Firearms
How to Choose the Best Ultrasonic Cleaner for Guns and Firearms
Authorities in the gun sales, law enforcement and hobbyist communities have agreed for over three decades that ultrasonic cleaning is the most effective, thorough, and streamlined method of gun maintenance. Regular ultrasonic cleaning is key to ensuring that your weapon performs properly and reliably; not only does it keep them residue-free, it maintains their efficiency in a way that manual methods will never measure up to no matter how hard or diligently one scrubs or polishes. Carbon, lead foulings, powder residue and general grime can contribute to a gun's diminished performance or malfunctions. For instance, gunpowder builds up inside your gun's barrel periodically as you fire bullets. The accumulation of residual gunpowder can compromise your gun's functionality and your accuracy. Quality ultrasonic cleaning machines wash every crack and crevice on your gun or firearm even those stubborn stains that can't be reached manually, thus preserving your firearm's operability and precision in addition to elongating its lifespan. In fact, many gun users have reported witnessing debris removed ultrasonically from a gun that was recently cleaned manually.
Furthermore, ultrasonic cleaning is a much more productive process than manual cleaning, therefore it reduces the amount of time needed to clean the gun, saving the user precious hours to reallocate to activities of greater importance. Cleaning your gun ultrasonically is always a great choice, but with so many different ultrasonic cleaning units to choose from, it can be challenging to select the right one for you. Our expert team has compiled a helpful guide to aid you in your search for an ultrasonic cleaner that matches your exact needs and applications.
Select the Right Ultrasonic Gun Cleaning Machine for Your Specific Purposes
Different ultrasonic cleaning machines are better suited to certain industries or hobbies because of the variation in the amount of guns each machine can clean at once, the types of guns that fit inside their tanks, their wattage and cleaning frequency. Before purchasing an ultrasonic cleaner for gun parts, it's crucial to consider the volume and particularities of your regular cleaning jobs as well as your budget. How many guns do you need to clean at once? What types of guns or firearms do you need to clean? How large or small are they? How often do you plan on cleaning them? Some ultrasonic gun cleaners can only clean one gun at a time while larger machines can accommodate up to 20 handguns or alternatively, 4 submachine guns (SMGs) or personal defense weapons (PDWs). Law enforcement teams, the military, federal and state agencies, ranges, gun shops and individual shooters all have different gun cleaning needs and thus, different ultrasonic cleaners are more optimal choices for these distinct groups.
The optimal wattage of an ultrasonic cleaning machine is relative to the tank size of the ultrasonic cleaner. Larger tanks require more wattage to handle the increased cleaning load and solution. A machine's cleaning frequency determines the aggressiveness of the ultrasonic cleaning. Higher frequency cleaners generate smaller, less aggressive cavitation or cleaning bubbles and lower frequency cleaners produce larger, more vigorous bubbles. Therefore, smaller guns require ultrasonic machines with lower wattages; they should be cleaned in machines in the 100-240 watt range. Meanwhile, larger guns require ultrasonic machines with higher wattages, ideally in the 600-2200 watt range. A cleaning frequency of 40-45 kHz is appropriate for cleaning guns of all types and sizes. If your ultrasonic machine has a heat function you can turn this on to increase your machine's wattage when you're cleaning many guns at once and keep it off when you're cleaning a smaller load. The frequency is usually fixed on ultrasonic gun parts cleaning machines and thus cannot be increased or decreased, but as long as your machine's output is within the aforementioned range your firearms will receive a deep, thorough cleaning job.
Ideal Ultrasonic Cleaning Machine for Recreational Shooters, Hobbyists and Small Gun Shop Owners, Collectors or Sportsmen
The HCS 200 is L&R's most compact and budget-friendly ultrasonic cleaner for guns and can hold two full sized semi-automatic handguns or a 6-inch revolver making it the prime system for users with smaller gun collections. However, this machine also serves the needs of some small law enforcement departments. It cleans 16 times more thoroughly and powerfully than hand scrubbing and eliminates the need for a litany of cleaning products. The HCS 200 Set-Up comes complete with a basket and cover, an auxiliary lubricating pan, two pre-measured containers of non-ammoniated weapon cleaner concentrate, a gallon of ready to use L&R Ultrasonic Weapon Lubricating Solution, an oil applicator, a pair of disposable gloves, a star relief device and a level gauge. The set-up is priced at $572. Like all of L&R's ultrasonic systems and solutions, this product was designed and manufactured in the USA.
Optimal Gun Parts Cleaning Machines for Law Enforcement, Military, Federal Agencies, Larger Gun Shops and Shooting Ranges
L&R's most universal table top system with the most applications for law enforcement, military and federal agencies is the Quantrex 650 Tac-Pac. This well-rounded machine holds four pistols and is able to accommodate myriad types of tactical weapons and handguns. Its engineering features a single 19.8" ultrasonic tank and a lube pan which allows for simultaneous weapon cleaning and lubricating. The Quantrex 650 Tac-Pac Set-up is fully outfitted with a timer, heating element, drain and cover, a streamline lubricating pan, two streamline baskets, a streamline cover, four Gallons of weapon cleaning concentrate and eight gallons of lubricating solution. This ultrasonic system costs $4,300.
The LE-36 Sweep is one of law enforcement's most in-demand ultrasonic cleaning systems—it's used for various teams within police forces. It can clean up to ten handguns or four long guns up to 36 inches within its tank at once. This machine is also used by multiple cohorts within federal agencies and is well suited for that industry as well. The LE-36 Sweep Set-Up comes with SweepZone® Technology, a generator, timer, heating element, drain, cover, a weapon rack with five adjustable compartments, a drain hose, a full-sized lubricating pan with anti-splash dampers, half-sized weapon pan, a half-sized weapon basket, a half-sized weapon cover and the same amounts of cleaning concentrate and lubricant as the 650 Tac-Pac. This comprehensive ultrasonic cleaning set-up is priced at $10,840. Both the Quantrex 650 Tac-Pac and the LE-36 Sweep also reliably serve the military, gun shops and shooting ranges.
Ultrasonic Solutions Specifically Formulated for Cleaning Guns and Firearms
Those who switch from traditional gun cleaning fluids such as bore cleaners, action cleaners, and lubricants to expertly engineered gun cleaning ultrasonic solutions unveil an entirely new level of gun cleanliness and smooth functionality for themselves. L&R's ultrasonic gun cleaner solution and lubricant work in tandem within a two-step process. The first step, cleaning, is executed with the Safety Ultrasonic Weapon Cleaning Solution which is a water-based solution. The second step is a rinse in the Safety Ultrasonic Weapon Lubricating Solution, a petroleum solvent-based liquid.
L&R's Gun Parts Cleaning Solution
The Safety Ultrasonic Weapon Cleaning Solution was designed to engender an acute cleaning process and strengthen the effects of the ultrasonic gun cleaning machine it's paired with. This robust surfactant removes all carbon oil, grease, residual and grime from guns and firearms with virtually no odor. In addition, it's safe to use on polymer parts and is non-ammoniated which prevents damage on the surface of your gun.
L&R's Post Gun Cleaning Weapon Lubricant
The Safety Ultrasonic Weapon Lubricating Solution oils and conditions guns and firearms within your ultrasonic gun cleaning tank to maintain that same factory-new appearance from the day you bought them. It conveniently comes blended and ready to use and is safe to use on metal and polymer parts. This lubricant removes all traces of water as well as the residual cleaning solution from your gun resulting in a uniform, dry lubrication. Skipping this step may result in rusting.
L&R: An Acknowledged Leader in Ultrasonic Gun Parts Cleaning
We, the L&R team, are recognized as a force for innovation in the ultrasonic gun cleaning field. We were the first company to ever apply the ultrasonic method to cleaning and lubricating firearms. Armorers and gunsmiths nationwide trust our gun cleaning machines and ultrasonic cleaner solutions to keep their guns effective, accurate, and looking like new. Our ultrasonic cleaning systems are the preferred weapon maintenance devices among law enforcement, military, and agency professionals. Here at L&R, we're committed to providing you with quality solutions for your most challenging cleaning jobs. If you're unsure about which ultrasonic cleaning machine and solution will work best for your soil, feel free to request a complimentary cleaning evaluation through our website. Our expert ultrasonic chemists and engineers will clean a small part of your soiled gun or firearm in our lab and then create the cleaning evaluation report to ascertain what the best solution and ultrasonic cleaning system are for you. Contact us today through our website's form or give us a call at (201) 991–5330 to consult with one of our experts about your specific gun cleaning visions, request a sample or for more information about our products.